Hi! Welcome to my first contest about the former Guardians from the Disney's "W.I.T.C.H." comics and TV series - Cassidy (Water), Halinor (Fire), Yan Lin (Air), Kadma (Earth) and Nerissa (Energy, Keeper of the Heart of Kandrakar). I know that there are many CHYKN fans like me, so I think it's about time our loved former Guardians to get a contest about them.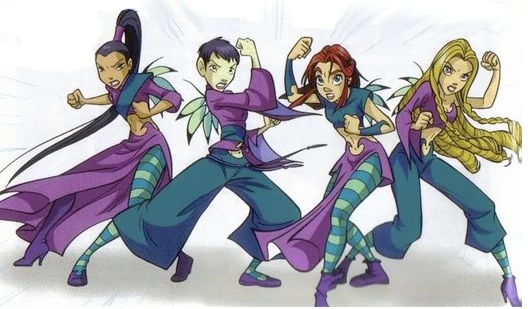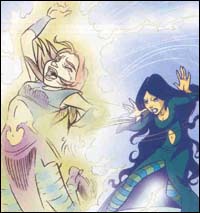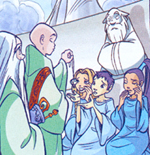 RULES - Please, read:

You must write a journal about this contest.
Your entries must contains at least one CHYKN member in her young appearance.
The drawings for the contest must be drawn by yourself - no pics from the WITCH comics or the TV show and screenshots from dress up games. Do not steal another people's work. Just draw it yourself.
Colored arts only. No sketches and line-arts.
Show your creativity. Your drawings should be on your idea and conception. If you just draw a scene from the comics or the TV show without any changes made by you, you won't have a chance for prize.
There is no limit of number entries - you can submit as many drawing as you like. More entries - more chances for prizes.
The drawings that you submit as your entries must be new - no arts uploaded on DA before June 10 2014.

PRIZES:

1st place: $40 or 3200

- TWO WINNERS
2nd place: $30 or 2400

- TWO WINNERS
3rd place: $20 or 1600


4th place: $10 or 800


5th place: $5 or 400



I want to reward as many arts as it's possible, so I decided to double the first two places. The winners will be asked what prize they'd like - money or DA points. To receive cash prize, you must have PayPal account - if you haven't, the only possible prize for you is DA points.

The contest will end on Octomber 10th 2014 at 00:00 AM Central Time. If you need more time, please tell me.

Useful links - click on them to find out more about CHYKN:


C.H.Y.K.N. - DisneyWiki
CHYKN - WITCH Wiki - Wikia


Second saga of the comics -
z8.invisionfree.com/WITCH_comi…
Second season of the TV show -
www.youtube.com/playlist?list=…
If anyone wishes to contribute prizes, please send me a DA note. Contributors will have the right to choice who to win the prizes financed by them.
Well, I think that's all. I can't wait to see your entries, my expectations are very high.

Good luck everyone!P.S. Sorry for my bad English



PEOPLE OFFICIALLY IN THE CONTEST: